In this article, we'll go over everything you need to know before hiring strippers for a stag party and how to arrange it through stag do companies like Stagmadness. From legal requirements to safety concerns to tips for finding the best performers, I've got you covered.
Table of Contents
Why Stag Strippers Make a Difference
For some people, strippers are the beginning of the fun. There's just something about the whole event that immediately feels like a party. Want to know why? Let's take a peek!
Atmosphere and Fun Factor – Having some female strippers can bring excitement and fun to a stag weekend. They bring some fun and laughter to the stag and it can be hilarious to watch the groom when the strippers arrive. While you have to be respectful, it can be a fun addition as a mark of the groom's last night of freedom.
Pleasing the Crowd and Keeping Guests Engaged – You want to ensure the groom and his friends are entertained during the stag do and with some female strippers you can please the crowd and keep them entertained. It can be a great stag activity that will keep spirits up and ensure there is plenty of laughs during the stag night.
Variety of Entertainment Options Available – You don't have to just go for a traditional stripper. There are so many different options to ensure it is unique and hilarious. For instance, you could get a sexy pizza delivery girl or even a granny stripper who they switch to a 'granny' partway through the strip. You can also combine stripping with other activities such as a boat trip or a sports activity. A refere with a difference!
FUN FACT:It is customary for the best man to organize and plan the stag do, including the itinerary and activities.
The Art of Planning a Stag with Strippers
Of course, you shouldn't just go out and throw some money in the direction of an attractive woman. There's a bit of an art to incorporating a striptease into your stag weekend without also feeling cheap or trashy. Here are some things you might tease out when planning your stripper.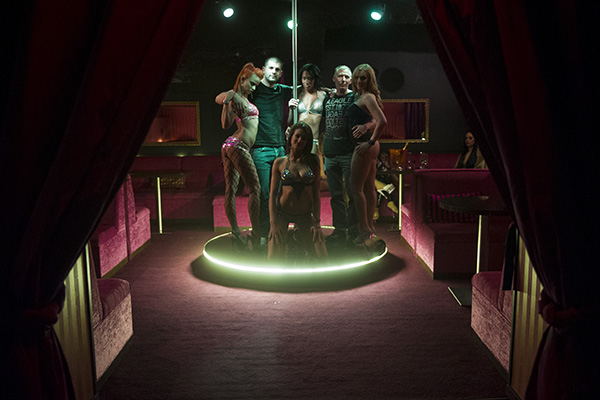 Determining the Stag Do Theme
You need to consider stag do themes before planning the stag do. Whether you want to go down the route of a cops and robbers theme and then combine this with a robber-dressed stripper or you could even go for a James Bond theme with the gorgeous girls dressed as bond girls performing a strip.
Consider Guests' Preferences and Budget Limitations
You need to think about the groom and what his preference would be when it comes to the theme of strippers. Perhaps he would only want a short dance or he might prefer a longer trip to a strip club for example. Also, remember to consider the budget too before booking any stag activity.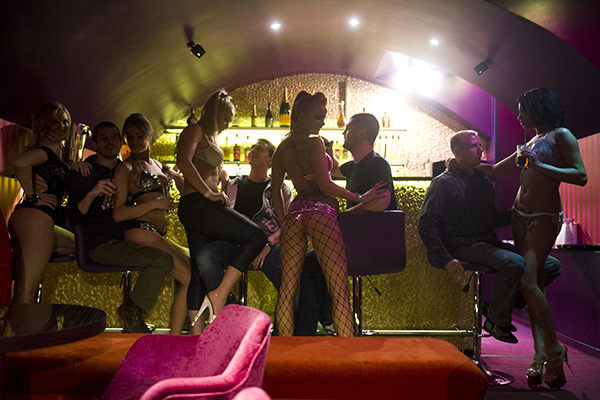 Setting the Budget: Getting the Most Bang for Your Buck
Before booking any strippers, make sure you work out the budget. That way, you can plan which strip joint to visit and work out if you could afford a private dance for the stag. You want the best stag night entertainment without breaking the bank.
PRO TIP:Designate a responsible person to keep track of expenses and collect payments from participants.
Selecting the Ideal Venue for Stag Party Strippers
You also need to consider where you may want to put on the stag do show. For an amazing stag weekend winner, you want space for the performance and enjoyment. Don't pick a crowded bar or an isolated room. Find somewhere that will suit your party size and style.
Unleashing the Magic: Hiring Stag Party Strippers
The first thing you need to do is decide on what type of entertainment you want. You may decide on a private dance for the stag. Or it might be the case you want stag night entertainment where you watch a group of gorgeous girls dancing. Decide on the entertainment first to make the epic stag night.
The Benefits of Hiring Professional Strippers
They can make the whole stag a lot of fun and memorable when people look back on the legendary stag. They are a fun surprise and the groom will love this for his last days of freedom. Remember to stick to their rules and be respectful when hiring professional strippers.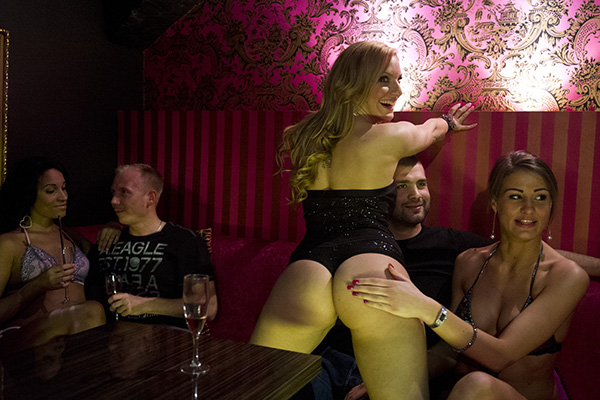 Ensuring a Memorable Stag Party Experience
Take a load of photos although don't share them with others outside of the party unless you have the groom's permission. Ensure it's a big surprise such as arranging for a strip when they turn up on the river cruise or at the club.
Types of Stag Party Strippers
There's a lot more variety involved in women (or men!) getting naked than you might think at first glance. Strippers and extic dancers can have their own style or dress up (then down) to suit your theme or plans. Here are three options for stag strippers you might consider:
Traditional Exotic Dancers: The Timeless Charm – Traditional exotic dancers are brilliant professionals who have epic moves that will impress the groom and the guests. These traditional stag party strippers have a timeless charm and will make for a fun and exciting event. They are always an amazing stag weekend winner and can turn up for a short period or for longer depending on your requirements.
Sassy Burlesque Performers: A Tease with Class – You could also hire some burlesque performers for the stag party to put on a great performance. A classy, unforgettable performance, the groom still gets to see gorgeous girls but burlesque can be great if the groom feels a bit awkward regarding strippers.
Adventurous Role-Playing Artists: A Dash of Fantasy – Whether the groom has a thing for air hostesses or loves the idea of being arrested by a police officer, you can arrange for the role-playing artists to put on a show for the groom. It will be a hilarious and memorable performance for the group.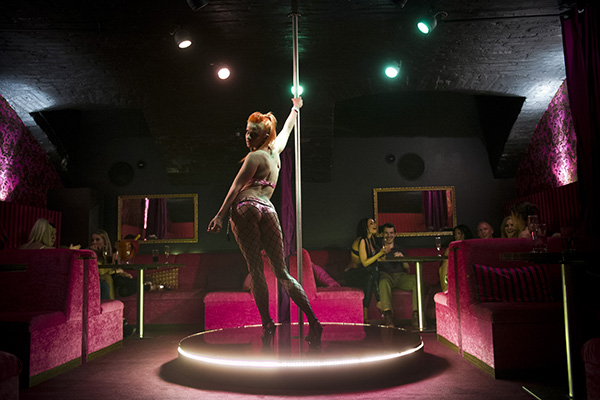 Ensuring a Smooth Stag Party Strippers Experience
The last thing you want to do is experience unwanted excitement and drama in the middle of your stag weekend and striptease. So, it's worth planning out what you will do with the strippers in advance so there aren't any issues.
Here are some secrets we've uncovered while organising hundreds of these events:
Understanding Legal and Ethical Considerations – The stag party strippers are there to perform, but they are professionals. Therefore, remember to legally be respectful and treat them kindly. You don't want to upset or offend during the stag.
Communicating Boundaries and Expectations – Before any hiring takes place, you need to talk to the groom about his boundaries and what he expects during the stag night. For instance, his other half may not be happy regarding strippers. Discuss the kind of thing he may expect and want at the stag.
Tips for Interacting Respectfully with Stag Party Strippers – Let the strippers take the lead and ensure you are respectful during the performance. Ensure everyone is on the same page and is respectful with the performers to ensure no offence occurs.
TRAVEL TIP:Use packing cubes or compression bags to maximize space in your luggage.
Conclusion
Stag party strippers are a great way to add some fun and entertainment to the luxury stag do. They are a great way to mark the last night of freedom for the groom. Whether you plan a surprise strip at a club or even at a boat party, the options are endless and can be arranged by Stagmadness. You don't want to cause any offence to the groom and his friends so make sure it's something they would want to do.
Frequently Asked Questions
How Can I Ensure the Privacy and Discretion of the Event?
You can hold it at a property belonging to one of the grooms or an area which is private and will not offend others not at the party. If you are having it at a venue, it's important to discuss it with them and they can organise a private room.
Can Stag Party Strippers Interact with the Crowd?
The stag party strippers often talk to the crowd and at strip clubs, they are likely to make a show of any of the grooms in the house. You can also arrange a private performance for the groom.
Are Stag Party Strippers Only for Heterosexual Events?
No, you can arrange stag party strippers for both stags for the straight and LGBT community if requested.
Are Stag Party Strippers Only for Grooms-to-Be?
You can arrange the stag party strippers to give attention and performances to the other members of the stag party too. Just make sure they are up for it and happy to have some attention before booking anything.