Budapest Airport can be a maze with taxis, buses, shuttles, and more. But fear not, we've got your back. Whether you're counting those pennies for more pints, or looking to arrive in style, we've got every transfer option covered. Dive into this guide and get the party started sooner. After all, a stag do is all about unforgettable moments – and that includes a hassle-free arrival! Cheers to a legendary trip!
Budapest Ferenc Liszt International Airport serves as the main entry and exit point to Hungary's vibrant capital. Knowing its layout and offerings ensures a hassle-free experience, whether you're just landing or preparing to depart.
Table of Contents
Navigating Budapest Airport: Your Quick Guide
BUD Airport serves as the main entry and exit point to Hungary's vibrant capital. Knowing its layout and offerings ensures a hassle-free experience, whether you're just landing or preparing to depart.
Airport Arrivals Terminal: The starting point of your Budapest adventure, offering essential services to guide your entrance into the city.
Baggage Claim: Retrieve your pieces of luggage and find helpful information desks for any inquiries.
Customs and Immigration: Be ready with your travel documents for a smooth entry into Hungary.
Relaxation Spots: After landing, refuel with diverse dining options and freshen up at the available restrooms.
Departures Terminal: The hub for your exit journey, equipped with check-in counters and security checks.
Entertainment & Amenities: Dive into duty-free shopping or savor a meal while waiting for your flight.
Connecting Corridor: Linking arrivals and departures, this passage offers essential amenities for a smooth transition.
Airport Lounges: Luxuriate in exclusive spaces with complimentary perks and Wi-Fi.
Duty-Free Extravaganza: Before departure, explore a variety of shopping treasures, from designer labels to local gems.
Budapest Airport isn't just a transit point; it's a part of your journey. Dive deeper into its features and plan ahead for a seamless airport experience.
Budapest Airport Transfer Guide: Getting Started
So, you're about to embark on a journey to the beautiful city of Budapest! I bet you're buzzing with excitement. But before you start imagining those scenic walks by the Danube river, let's discuss how you're actually going to get from the airport to your hotel or temporary home in the city. Trust me, navigating this process can be a bit tricky especially if you've never done it before.
Follow this guide to get from the airport to the Budapest nightlife as quick as you can.
Understanding the Process
First off, Budapest Airport is a large and busy place! It's a major hub for travelers all over the world. There are numerous ways to transfer from the airport to your accommodation, and the best method depends on your budget, your comfort level with public transportation, and the time of day you're arriving.
FUN FACT:Did you know Budapest is often dubbed the "Spa Capital of the World"? After your wild stag night, consider rejuvenating at one of the city's historic thermal baths!
Planning Ahead
It's important to plan your airport transfer ahead of your journey. Some modes of transport may not be available 24/7. For instance, buses don't operate throughout the whole night, taxis could be scarce, and not all car rental services work past a particular hour. So, make sure to have a rough outline of your transfer plan before you board that flight to Budapest! This will cut down on your waiting time later on.
Through the course of this guide, we'll go over all your options, including the good old taxi service, budget-friendly buses, trains, car rentals, and convenient airport shuttles. Get comfy and let's dive in!
Navigating Your Arrival
Congratulations! You've just touched down at the Budapest Ferenc Liszt International Airport. The buzzing energy of the city awaits you, but first thing's first – let's get you settled in comfortably.
The moment you step off the plane, you're welcomed by the airport's modern terminals, complete with everything you might need after a tiresome journey. Fancy grabbing a quick coffee? Or perhaps a last-minute souvenir from the duty-free shops? How about some local currency at one of the convenient exchange centers?
It's all at your fingertips.
Points of Contact for Assistance
Oh, the dread of unfamiliar territory when first landing in a totally new city. Trust me, we've all been there. But don't worry, your time at Budapest Liszt Ferenc Airport doesn't have to be a nerve-wracking puzzle. There are some friendly faces and handy resources ready to assist you throughout your journey.
Meet the Helpful Destinations: Customer Service Desks and Info Counters
Envision those helpful signposts in the middle of a maze – that's what customer service desks and information counters at Budapest Airport are like. They're conveniently sprinkled around the terminal, just like breadcrumbs leading you to where you need to be. They're there to provide **guidance, support,** and answer any queries you may have, whether it's about flight schedules, lost luggage, or even some hot tourism tips about the grand city of Budapest.
Why bother running around when you can click around: Online Assistance?
In this digital era, help is just one tap away. The Budapest Airport website is like your personal tour guide, holding your hand virtually and walking you through all the necessary information, from airport maps to travel guides. And it's all aboard your device – whenever and wherever you need it.
To sum up, whether you're more comfortable talking face-to-face or prefer the convenience of digital assistance, Budapest Airport has ensured that all travelers have the support they need. They're committed to turning what could be a stressful journey into a smooth sailing one, from your first step in the airport right until you bid goodbye.
Budapest Airport Transfer Options
Want to know what opportunities await you once you step off that plane in Budapest? No worries, you're in the right place! When it comes to Budapest airport transfer options, you're spoilt for choice. Whether you're a seasoned globetrotter in quest of your next adventure or you're traveling on a shoestring budget, we have you covered.
Choices, Choices, and More Choices
Our guide will delve into the pros and cons of each airport transfer service to help you make a decision that feels right for you. So, buckle up and get ready to be your own travel guide!
In the coming sections, we will walk you through some of the most popular ways to get from Budapest airport to the city center, including:
Airport Taxis: Convenience at its best
Bus Services: The wallet-friendly option
Trains: Perfect for the adventurous soul
Car Rental: The freedom to explore on your own
Airport Shuttle Service: The seamless and comfy option
Stay tuned to make your airport transfer in Budapest a cakewalk!
Taxi Services: An Easy Option
Ever landed at an airport with your suitcase in one hand and a sense of excitement (or pure exhaustion, because who really loves long flights?) in the other, wondering how to get to your accommodation in the quickest and most stress-free way? Taxi services offer one such solution for Budapest airport transfers and let me tell you, friend, it can be as easy as pie.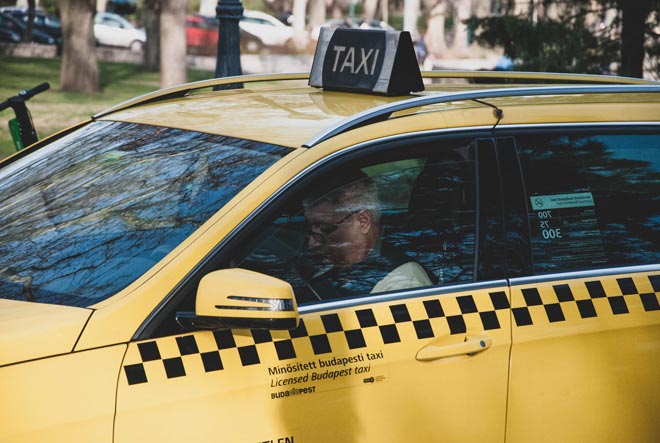 Booking in advance: A stress-free transfer
A lot of us love to plan in advance (every little detail is pencilled into our travel itinerary, am I right?), and for those of us who lean toward this end of the traveler spectrum, pre-booking a taxi service can be a comforting option. This allows you to secure a fixed-price service and avoid the worry of fluctuating fares or shifty eyes from your taxi driver. Bolt is a popular ride-sharing app often used for this purpose. Who knew that pre-trip organization could be so rewarding?
The journey: Quick, easy, and surprisingly scenic
On an average day, a taxi ride from Budapest Airport to the city center takes about 30 minutes. That's less time than it takes for a Friends' episode to play! You can sit back, relax (maybe catch up on some well-deserved sleep), and let the reliable driver show you the city sights outside your window. Be rest assured that it won't burn a hole in your pocket with prices starting from a reasonable €25.
Of course, taxi drivers are also great local guides. Be sure to ask yours about the best bars in Budapest for a local opinion!
On-the-spot booking: Fret not, last-minute planners
Maybe you're more of a last-minute, go-with-the-flow traveler who prefers to figure things out on arrival. If that's you, no worries, you have options too. Taxi services like Főtaxi can easily be arranged upon arrival at Budapest Airport, but do expect the fare to be a bit on the higher end, ranging between €25-40, depending on your exact destination. And did I mention? There's an app for that too! Solidifying once again our deep-seated belief that the digital world has a solution to almost anything.
In the end, no matter what kind of traveler you are, securing a taxi service might just be the simple, hassle-free Budapest airport transfer option you didn't know you needed. Happy travelling folks!
Bus Services: A Budget-Friendly Choice
When you're strapped for cash after a long flight, the last thing you want is to be hit with an exorbitant transport fee. That's where Budapest Airport's budget-friendly bus services step in, offering a considerable bang for your buck.
The 100E Airport Express: Affordable and Convenient
Most travelers tend to grab a ride with the common, and very budget-friendly, 100E Airport Express. This service operates with a frequency of every 20-30 minutes and will ferry you straight from the airport to the heart of Budapest city. In fact, it has stops at notable points such as the hustling and bustling Deák Ferenc Square and the historically enriched Kálvin Square. All this for a friendly price tag of just around €3 for your bus ticket.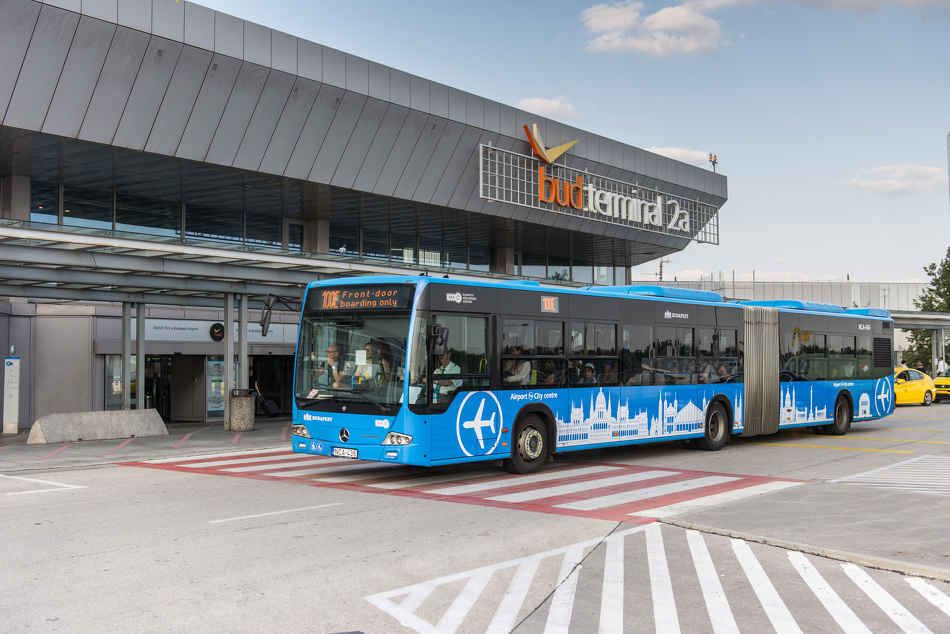 Regular Bus Lines: Flexibility at a Minimal Cost
For those looking to head to other parts of the city, the regular bus lines are an excellent option. These lines offer various routes and are easily accessible from the bus terminal located conveniently near the arrivals hall. What's more, ticket prices start from a very affordable €1.50, making them truly a budget traveler's best friend.
However, be prepared for a varying travel time from the Budapest Airport to the city center, as it can fluctuate from 40 to 60 minutes. It's worth keeping in mind that during peak hours, your journey might be extended due to heavy traffic. But hey, you're saving money and getting a scenic view of the city – sounds like a win-win to me!
TRAVEL TIP:When organizing airport transfers for a group, book in advance. Larger vehicles or multiple cabs can accommodate everyone, ensuring the party vibe isn't interrupted!
Trains: For the Adventurous Traveller
Now, if you're the type of traveller who seeks a little adventure and a chance to mingle with the locals right off the plane, the train service from Budapest Airport might just be the ticket! The adventure begins even before you step aboard the train.
The Journey Begins
Your journey starts with a quick dash on the 200E bus, whisking you away from the hustle and bustle of arrival terminals and dropping you at Ferihegy (Liszt- Ferenc International Airport) train station, the gateway to your train journey. The bus trip in itself is a great chance to catch a glimpse of the local life and landscapes.
Unleashing Budapest: Nyugati Station
Having almost 100 trains zooming back and forth between Ferihegy and the heart of Budapest — Nyugati station, every day, convenience isn't even a question. Just think, in around a quick 20 minutes, you could be disembarking in the center of this historic city, ready to start exploring!
Getting Your Wheels Turning
Can't wait to get started? No worries! Bagging tickets is a breeze. You can snag one at Ferihegy station itself or, if you're a tech-savvy type, score them online before you even land in Budapest. Now that's planning ahead!
Tickets come in single, return, or discounted rates, making sure you get just what you need —whether you're here for a quick jaunt or a leisurely exploration. And with the combined bus and train fare costing you a mere 530 Forints (we're talking about £1.50 here), your wallet won't feel a pinch either.
TRAVEL TIP:So, fellow travellers, if you're one to think aboard a train is always more appealing than behind a wheel, this adventurous journey from Budapest Airport to the city center might just be your kind of ride. Happy travelling!
Car Rental: For the Independent Explorer
There's nothing quite like hitting the open road, the city skyline slowly shrinking in your rearview mirror as you venture onward like the merry wanderer you are. It's that sense of independence and freedom that makes renting a car the ideal transfer choice for many travelers at Budapest International Airport.
Our beloved airport is home to various car rental services, offering an extensive selection of vehicles to match your unique needs and preferences. Whether you're picturing yourself zipping through the city streets in a sleek compact car or envisioning a leisurely drive in a roomy SUV, we've got you covered!
A car is also super helpful if you want to check out the best restaurants Budapest has to offer. USe the flexibility to get around and check out the ones that really catch your eye.
Possessing a rental car means you can explore the vast beauty Budapest has to offer, its heart thumping in the rhythm of history and modernity. The city's grand architecture, river serenades, steamy thermal baths, buzzing marketplaces, and inviting eateries all lie within reach. Forge your own path, adventurer! Budapest is ready to receive you.
Airport Shuttles: Comfortable and Reliable
If you're after plenty of legroom and a hassle-free ride to your destination, then let's talk airport shuttles! These services provide spacious and comfortable vehicles, ensuring smooth and relaxing transport from the airport to your accommodation or other desired locations.
The operations of shuttle companies at Budapest Airport are *highly reliable* and revolve around punctuality and friendly service – they're all about making your journey as stress-free as possible.
Meet MiniBUD
A standout in the shuttle world, MiniBUD is well-known for their shared ride services and, let's not forget, their wallet-friendly prices. They take the guesswork out of finding your ride with predefined meeting points conveniently located at the airport. And for those of us who like to plan ahead, they offer online booking options.
Shuttle Budapest: Efficient and Friendly
Moving on, we have Shuttle Budapest, another popular choice among travellers. They're renowned for their super efficient and notably friendly drivers. Like MiniBUD, they also offer comfortable shuttle services with predefined meeting points and the ease of online booking.
So, whether you're a group of friends looking to save some pennies or a solo traveler wanting a breezy ride, consider giving airport shuttles a go! You might just find your new favourite way to travel.
PRO TIP:Hungarian Forint (HUF) is the local currency and not all places accept cards. Upon arrival, withdraw or exchange some cash at the airport for smooth transactions during your initial hours in Budapest, especially handy for those first rounds of drinks!
Summary
Remember, no choice is the wrong one. Each option is available to make sure your travel experience matches your needs and style. So whether you're a budget backpacker or a luxury seeker, Budapest Airport offers various ways to get you comfortably from A to B.
Here's to stress-free travel in the beautiful city of Budapest! Don't forget to tell us about your experiences and your favored transfer mode in the comments section. We can't wait to hear your adventures. Happy traveling, everyone!